After the last special, here comes another one. My mother used to cook a version of the following recipe when I was little. Ladies and gents, I give you Chiri Mama's Beef Delight!
Ingredients
Permalink to "Ingredients"
I don't know much about from what part of the cow every piece of meat comes from, so forgive me for not being really specific:
  * 600 grams of beef meat (I like it to have a bit of fat, gives more flavor)
  * 3 big peppers
  * 250 grams (basmati) rice (if you use a different rice, you might want to put less rice)
  * 1 big onion
  * 5-6 garlic cloves
  * half a glass of red wine
  * cooking olive oil
  * grilled paprikas (as a side dish)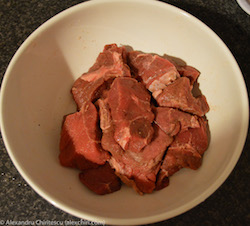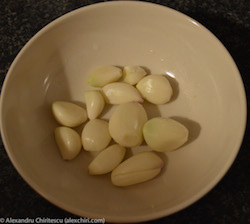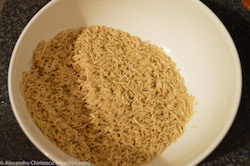 How to
Permalink to "How to"
First things first and that means you have to cut that cow down, medium slices, not too big, but not too small, you want to distinguish them from the rice. Cut, spices, salt, pepper, rest.
I'm going to use a pressure cooker for this delicacy, the meat will be done in an instant (40 minutes), this means you have time for desert as well. Let the oil get hot in the pot while you cut the onion in small pieces.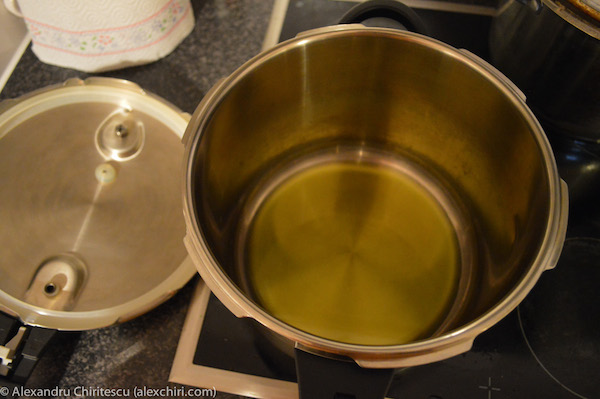 Drop the meat and the onion in the cooker and let them taste hell for a while, but careful, we don't want them to stick to the bottom!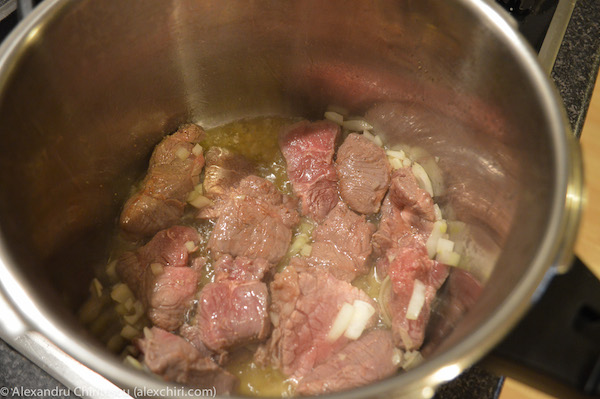 After a while, you'll get it when by the smell, turn the wine and another half a glass of water, put the lid on and let it catch some steam. When the cooker is pressurized, let it whistle for 40 minutes.
In the meantime, don't just stand there, go wash the rice! Also you might want to chop those peppers really small to get them ready for the second part of the operation.
Before you open the cooker, make sure you have the garlic ready. Now move the meat in a different pot, crush those babies on top and put the lid on. Leave a bit of the sauce in the cooker, gives more taste to the rice.
I cooked the rice also in the pressure cooker, make sure you put enough water, drop the chopped peppers and steam on for 7 minutes.
These being said, I can only wish you to enjoy it, hope you still have some red wine left!